The White Rooms
The site has now moved to www.whiterooms.org
Click on this link to be redirected to our new site.
Now Exhibiting at The Dewaniam in Forest Hill, London SE23 from 1st July - 29th July 2006
We were asked to describe Nikki's artwork, both of us just couldn't find the words to describe it!
In Nikki's own words,
"My prints are snapshots, they are moments and observations about life. Things that happen to me or people I know. They are everyday thoughts and feelings, which are comical but often have a darkness and sadness to them. They are about exorcising my demons".
Awards:

The John Purcell paper prize


Artichoke Award for outstanding Student, Camberwell College


Runner up Clifford Chance Prize
Now Exhibiting at Choi's in Chislehurst, Kent from 1st July - 29th July 2006
The Artist
Ian is a member of the Wildlife Art Society. His work has sold in Australia, Europe and America. In August 2005 at the Wildlife Art Society's Annual Exhibition his painting "The Greenfinches Of Lemon Grove" was given "Gold Award Best In Show". Until recently the main source of Ian's artistic work has been from commissions which could include any subject, but mainly portraiture. Although he enjoys this type of work, wildlife art is his passion and something which he truly likes to focus on.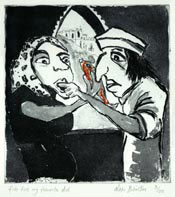 Now Exhibiting in The Dewaniam in Forest Hill, London SE23
The Dewaniam Restaurant (Indian and Bangladeshi Cuisine) 133-135 Stanstead Road, Forest Hill, London SE23 1HH
020 8291 4778
Choi's 4-6 High Street, Chislehurst, Kent BR7 8AN
The White Rooms
We are a promotional organisation looking to promote professional and amatuer artists and photographers and to exhibit their works.
It all started last summer when we were "house - hunting". After visiting half a dozen newly decorated homes they all have one thing in common (no, it's not Magnolia paint) it's IKEA prints! It was OK seeing them once or twice but after half a dozen times the novelty wears off.
So we thought where would someone get original prints? Most galleries charge "gallery prices" (Oh yes, we've been there ourselves). Anyway, that's when The White Rooms came along...
Please check out the Catalog page, you will find photos of artwork and also price lists
If you see anything you like or would like to commission an artwork from any of our artists and photographers, please send us an email at the address below or call us on 020 7884 2155